Bhakti Breakfast Club has arrived!
posted by Daniel Tucker | Feb 22, 2013
I am so excited to announce that our new "Bhakti Breakfast Club" website is up and running!
The Bhakti Breakfast Club presents video-based music classes for kirtan lovers. Here you can learn online everything you need to know to play the kirtan songs you love, on your harmonium.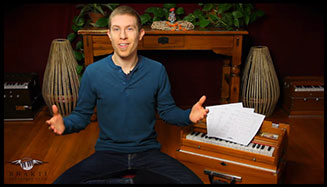 This has been a labor of love for a long time! Many harmonium students' ideas and suggestions have been incorporated into the new website, which features a huge library of filmed harmonium classes. The videos are organized into "courses," each course has a few videos in it and focuses on one topic. Some courses present introductory tutorials about the harmonium, while many others teach how to play specific kirtan songs in melody and chord style, together with a print-able songsheet and mp3.
Right now all the courses focus on learning harmonium, and each month five more courses will be added. In a few months, we'll be branching out to film and present mridanga, kartals, and guitar courses as well - all with a focus on easily learning how to play kirtan music. We will also be filming master class courses with well known kirtan wallahs, stay tuned! The best thing about this new website format is that members of the Bhakti Breakfast Club get access to all the courses for a small monthly membership fee. To get more info, visit BhaktiBreakfastClub.com.

---
Annual Holiday Sweepstakes!
posted by Daniel Tucker | December 12, 2012
That magical time of year has arrived again... when you can enter to win a free harmonium! Our Annual Holiday Sweepstakes grand prize includes a portable harmonium, a Learn to Play Harmonium kit, and a year of Bhakti Breakfast Club online harmonium classes. It is super easy to enter the drawing here - enter before January 1st!

---
Soul Contact by Mike Cohen
Album review by Daniel Tucker | April 9, 2012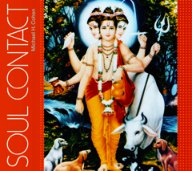 Mike Cohen's new album "Soul Contact" opens with a funky, pulsing, techno-inflected invocation, chanted while a spritely saxophone dances around the two female voices of Allie Stringer and Joni Allen, who sing to Ganesha in sweet harmony.

The rapid rhythms of hand drums and bass, against slow, sustained chords creates a palpable sense of anticipation. This combination of energetic instrumentation, with restrained, slow-building chanting is used throughout the album, and...

---
Learn to Play Harmonium boxed set!
with Daniel Tucker | March 27, 2012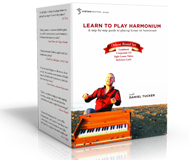 Our "Learn to Play Harmonium" kit just got an upgrade!
Introducing the new Learn to Play Harmonium Deluxe boxed set. Everything you need to know to play the kirtan songs you love, on your harmonium.

---
Sean Johnson of the Wild Lotus Band
Interviewed by Daniel Tucker | February 21, 2012

Daniel Tucker: In the upcoming March 5th Bhakti Breakfast Club online harmonium class, I'll be teaching the gorgeous "Om Hari Om" from your most recent album Devaloka. Can you share a bit about this song and what the lyrics in this kirtan mean for you?

Sean Johnson: One of the things I am most grateful for is when music comes through mysteriously, like a great gift from the Universe, and we get to have the blessing of being the vessel for this music. Several years ago I was cooking a meal with my love Farah in our kitchen here in New Orleans and, as I often do, I was singing to myself spontaneously. I began singing "Om Hari Om" in a spontaneous melody. Farah stopped me and said "Sean, go get your recorder right now. That's really sweet." So I got the recorder and we sang it together with the sound of veggies and olive oil simmering in the background. The next day I sat at my altar at home and started...

---
Vijay Krsna of the Kirtaniyas
Interviewed by Daniel Tucker | January 19, 2012

Daniel Tucker: In the upcoming February 5th Bhakti Breakfast Club online harmonium class, I'll be teaching the beautiful "Krsna Govinda" melody from your new album Heart & Soul. Can you explain a bit of the meaning of the lyrics in this kirtan?

Vijay Krsna: This particular chant is quite a traditional favorite, and you can find as many variations of it as there are temples and asrams in India. "Krsna" is the name of the Divine Beloved, the male aspect of the Divine. "Govinda" and "Gopala" means he who protects and loves the cows, which is one of Krsna's favorite things to do. Another interpretation is he who gives bliss to the senses. ("Go" in the ancient sanskrt language means both "cow" and "senses"). Then the next line of the song goes "bhaja Murali Manohara Nandalala"...

---
Heart and Soul
Album review by Daniel Tucker | December 29, 2011
Kirtan in the West is a rapidly evolving sacred music. It's roots stretch back to ancient Indian chanting of sanskrit mantras containing the names of God. And yet it's branches reach out with fresh growth each year, as new generations of musicians employ their creativity in the service of the divine vibrations of kirtan.

It was only recently that mantras began to grace western recordings. In the 70's and 80's, George Harrison planted seeds of kirtan by incorporating mantras into his songwriting, most famously with his song of devotion "My Sweet Lord" culminating in the joyous repetition of the Hare Krishna mantra. In the 90's, chant music really took root when Krishna Das began recording albums of entirely kirtan music, with rhythmic underpinnings from rock and world music. In the 2000's, kirtan blossomed into a substantial...

---
Mike Cohen interview
by Daniel Tucker | December 20, 2011

Daniel Tucker: In the upcoming January 8th Bhakti Breakfast Club online harmonium class, I'll be teaching the "Om Namoh Bhagavate Vasudevaya" melody from your album Om Dattatreya. How did this song come to be? What was the process of composing like, and what was going on in your life at the time?

Mike Cohen: Daniel, that's a great question, and there's a fascinating story behind this song! Through a series of synchronicities I landed in Portland, Oregon in the winter of 2006 and unexpectedly found myself with an open week. Online I located a well-established ashram run by Swami Chetanananda, a brilliant American student of the great Indian Saint Swami Muktananda (the founder of Siddha Yoga). It was my good fortune to have arrived just in time for Chetanananda's bi-annual spiritual retreat. The program was held in an exquisite meditation hall, featuring dazzling Indian artwork...

---
Annual Holiday Sweepstakes!
Enter drawing by January 1st, 2012
It's that time of year again! Round these parts, Santa's sleigh is packed with mantras and musical instruments. And you can hold onto your cookies and milk - he'd rather score some prasad from your Radha Krishna altar.

Last year, we teamed up with Santa for a harmonium-giveaway-spectacular. It was so much fun, and the winner is making such good use of her harmonium, we decided to make it an annual event! Except this year, we super-sized the grand prize, and made it extra easy to enter.

---
Virtual Kirtan Choir's debut!
By Daniel Tucker | November 5, 2011
Over the last three months, videos have been arriving in my email inbox from all over the world - from an ashram in Greece, an ultra-modern apartment in Germany, a family home in Spain - with one thing in common: Everybody is singing Krishna Das' "Ma Durga"!

These kirtan lovers were responding to my call for exactly that - casually filmed videos of them singing along to Krishna Das in their headphones, that I could weave...

---
The Kripalu Kirtan Connection
By Daniel Tucker | October 8, 2011
"How did you first get into kirtan?" she asks me. We had finished the last session of our three-day harmonium intensive a few hours ago, and were chatting now in Kripalu's hallway.

My mind flips back through an imaginary photo album of kirtan highlights - the sweet bhav of Jai Uttal retreats, the epic woodstockiness of Bhakti Fests, the drinking deeply of Radha-Krishna nectar on pilgrimages to Mayapur...

---
Top 5 Tips for a Healthy Voice
By Daniel Tucker | September 15, 2011
Like kirtan? Great! And surprise - now you're a singer! Better learn how to take care of your voice:

1) Drink water!
- Your vocal folds need hydration in order to be lubricated by a thin layer of healthy mucus, and nothing provides that better than water. Warm water is especially good, as cold causes the vocal muscles to constrict and become tighter - and as singers, we want warm, relaxed, moist vocal muscles...

---