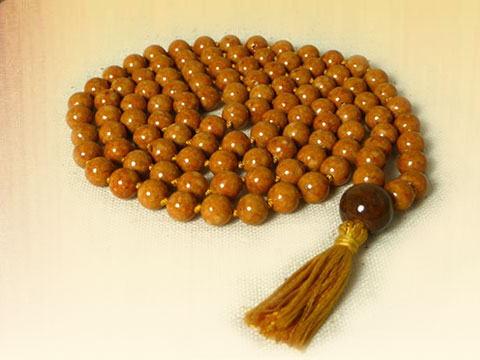 BIJOUX PASCALE JAPA MALA
Riverstone
41-inch circumference
$79 retail $65
ADD TO CART
Riverstone
This 108-bead mala is made of 8mm Riverstone (dyed) beads hand knotted with silk thread. When used in meditation, Riverstone energizes your whole being and helps you make the changes
that lead to greater spiritual experiences.

Each stone bead is a blend of mottled honey, orange,
and burgandy tones. No two are the same! Each mala is unique.

A sweet way to meditatively repeat your favorite mantra.
• • • • •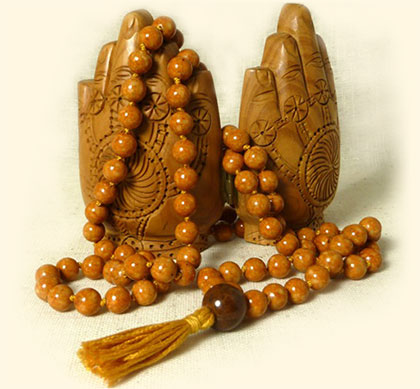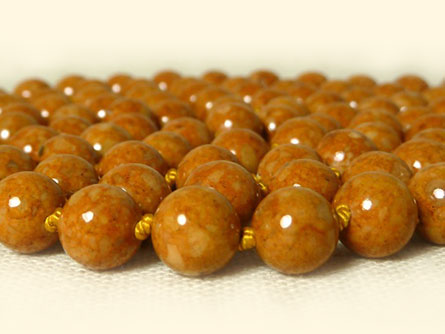 Hand knotted with care
Daniel:
"What is the process of making a mala like?"
Pascale:
"The making of a mala is a meditation in itself. The stringing and knotting is done when I can sink into a peaceful place and open my heart to God. It keeps my hands busy and my mind calm. While knotting, I think of the ways the mala might be used and who might find the particular one I am currently making."
• • • • •
Crafted by Bijoux Pascale
Daniel:
"When we first met in person a few years back, I remember you were singing and sharing the Hanuman Chalisa. How did you first connect with chanting, and why has it become so significant for you?"


Pascale:
"I was introduced to chanting at a yoga retreat in 2008, where "Om Namah Shivayah" by Krishna Das was playing on CD. I was moved beyond belief and knew I had to get more of this. Then KD came to my town and I experienced the bliss of singing in community. I asked him afterwards how I could get started chanting and he said to me, "Just sing from your heart." And that's what I did. I think it saved my life, to be honest. I was suffering from depression and it helped me connect to my heart and find myself. The changes it helped me through were nothing short of amazing and I am grateful for the grace of finding my way to this practice."
• • • • •




Visit