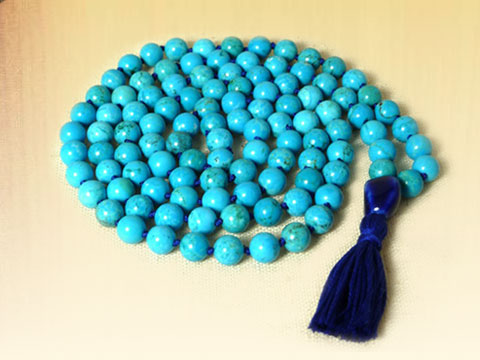 BIJOUX PASCALE JAPA MALA
Blue Magnesite
41-inch circumference
$79 retail $65
ADD TO CART
Blue Magnesite
This 108-bead mala is made of 8mm dyed/stabilized magnesite beads hand knotted with silk thread. Magnesite is a calming stone to use in meditation, and a strong stone for creative visualization and imagination. It has a soothing vibration, and if you tune into the energy of your heart it will help you respond to your heart's desires.

Each magnesite bead is a vibrant drop of brilliant blue,
with striations of ocean and sky tones. No two are the same!
Each mala is unique.

A lovely way to meditatively repeat your favorite mantra.
• • • • •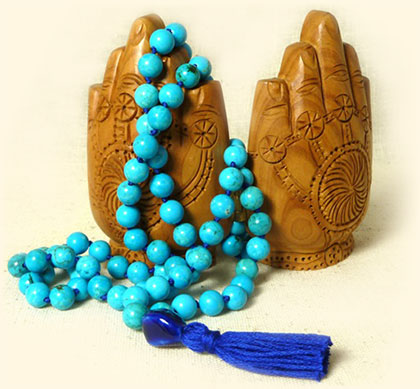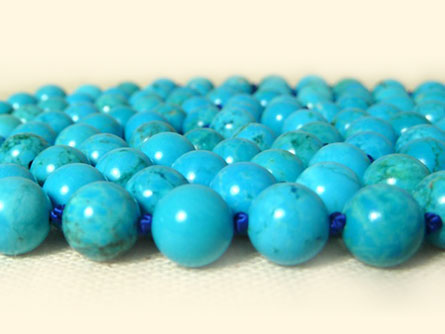 Hand made with care
Daniel:
"What is your hope for those who purchase and use one of your malas?"
Pascale:
"People connect with a mala in many different ways, and it pleases me greatly that I can help them find what they need. Pausing a busy life for a time out with oneself and with the Divine is one of the most important practices for anyone these days, and doing japa with a mala is a great way to do that."
• • • • •
Crafted by Bijoux Pascale
Daniel:
"When we first met in person a few years back, I remember you were singing and sharing the Hanuman Chalisa. How did you first connect with chanting, and why has it become so significant for you?"


Pascale:
"I was introduced to chanting at a yoga retreat in 2008, where "Om Namah Shivayah" by Krishna Das was playing on CD. I was moved beyond belief and knew I had to get more of this. Then KD came to my town and I experienced the bliss of singing in community. I asked him afterwards how I could get started chanting and he said to me, "Just sing from your heart." And that's what I did. I think it saved my life, to be honest. I was suffering from depression and it helped me connect to my heart and find myself. The changes it helped me through were nothing short of amazing and I am grateful for the grace of finding my way to this practice."
• • • • •




Visit