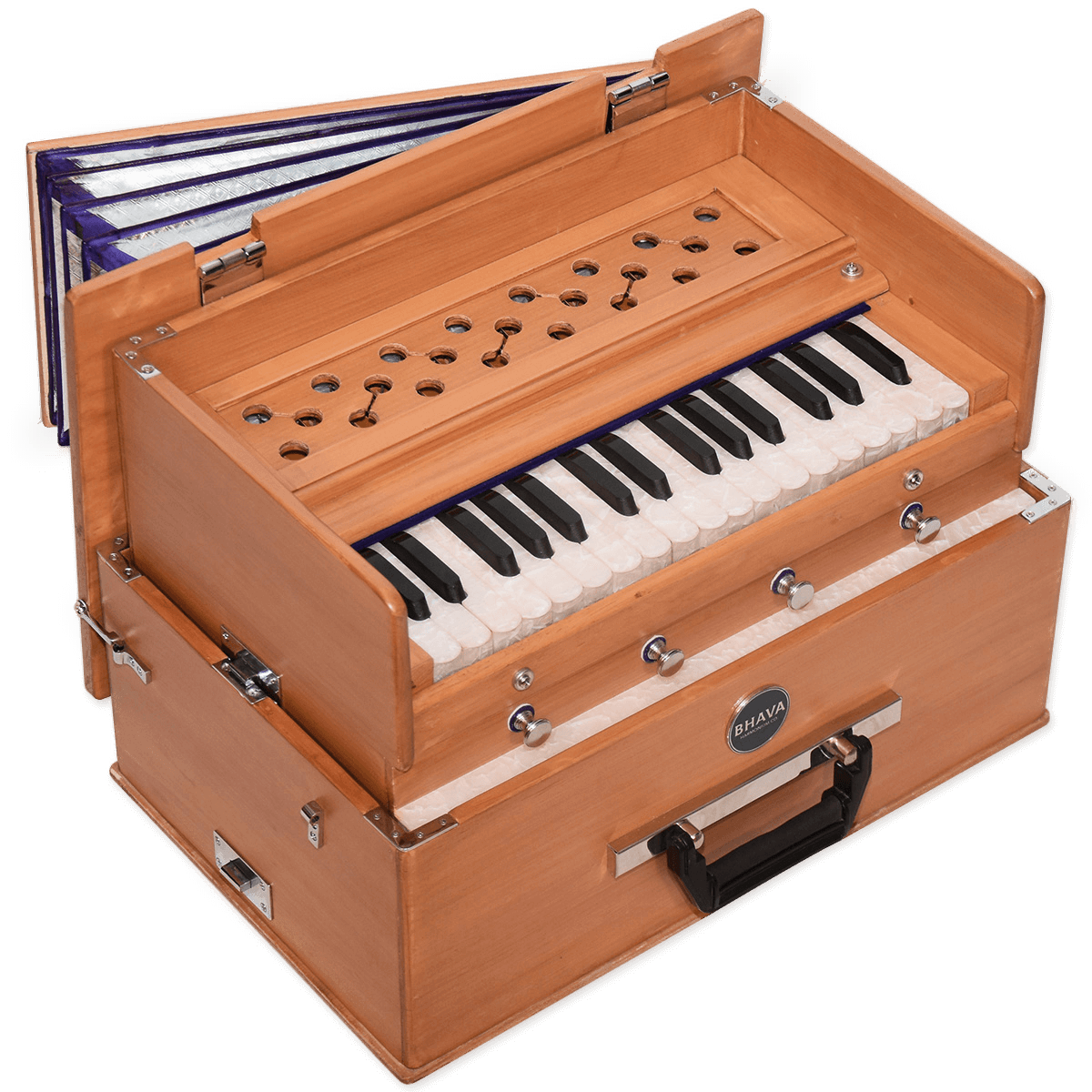 Bhava Mini Harmonium
natural grain finish
2.5 octaves, double-reed
$899
ADD TO CART
Portable Adorable
The Bhava Mini is the same style harmonium as the Classic, with 2.5 octaves of keyboard instead of 3.5. This saves a lot on size and weight, while leaving plenty of range for the chords and melodies of kirtan songs. These are built in Delhi, India, then expertly set-up by instrument specialist Nic Dillon. They feature a long bellows sustain with full tone, a rare feat for a mini harmonium!

Solid wood is finished with a clear polish, with slight variations in grain and hue. These conveniently fold up for carrying like a suitcase, and a padded fabric carrying case is included.
• • • • •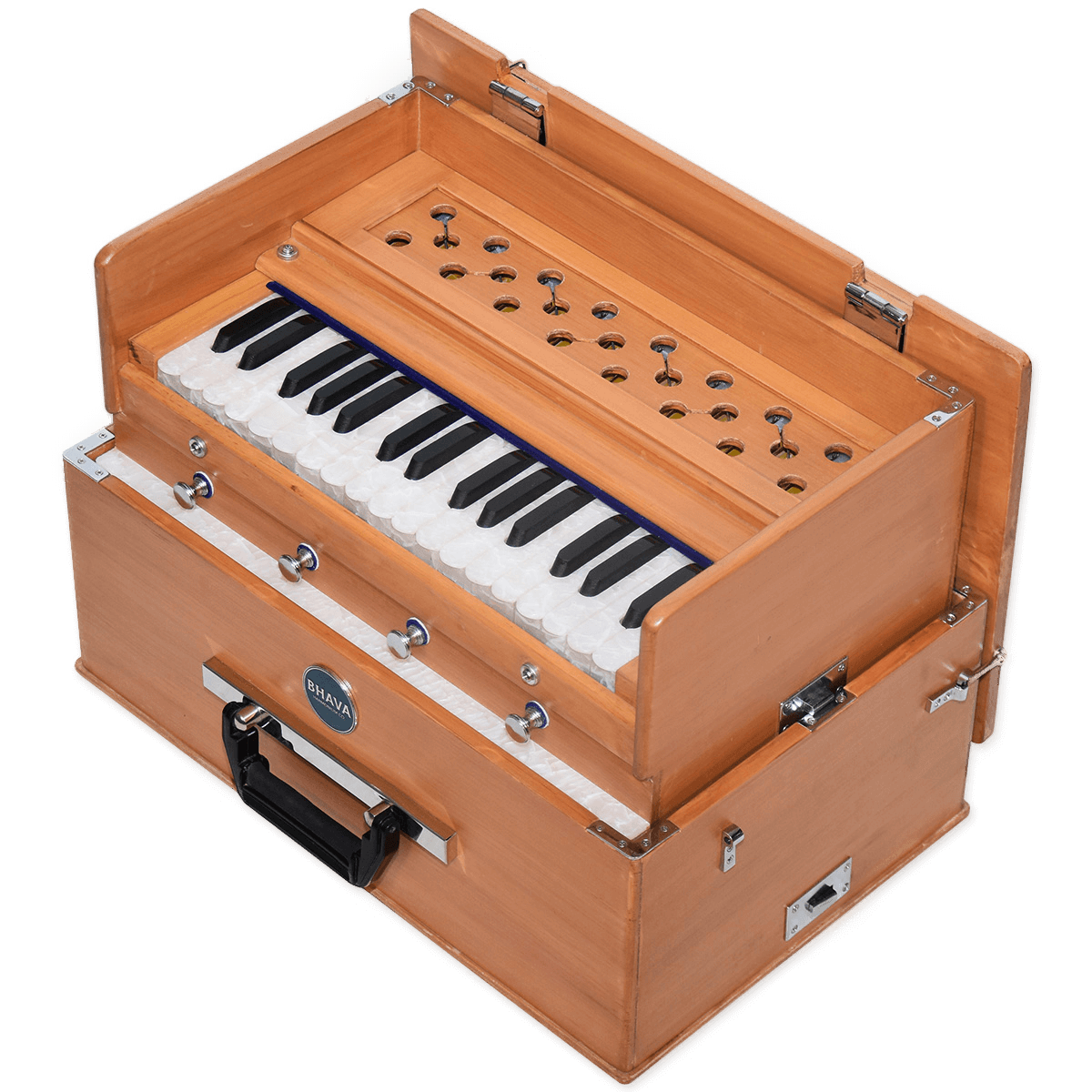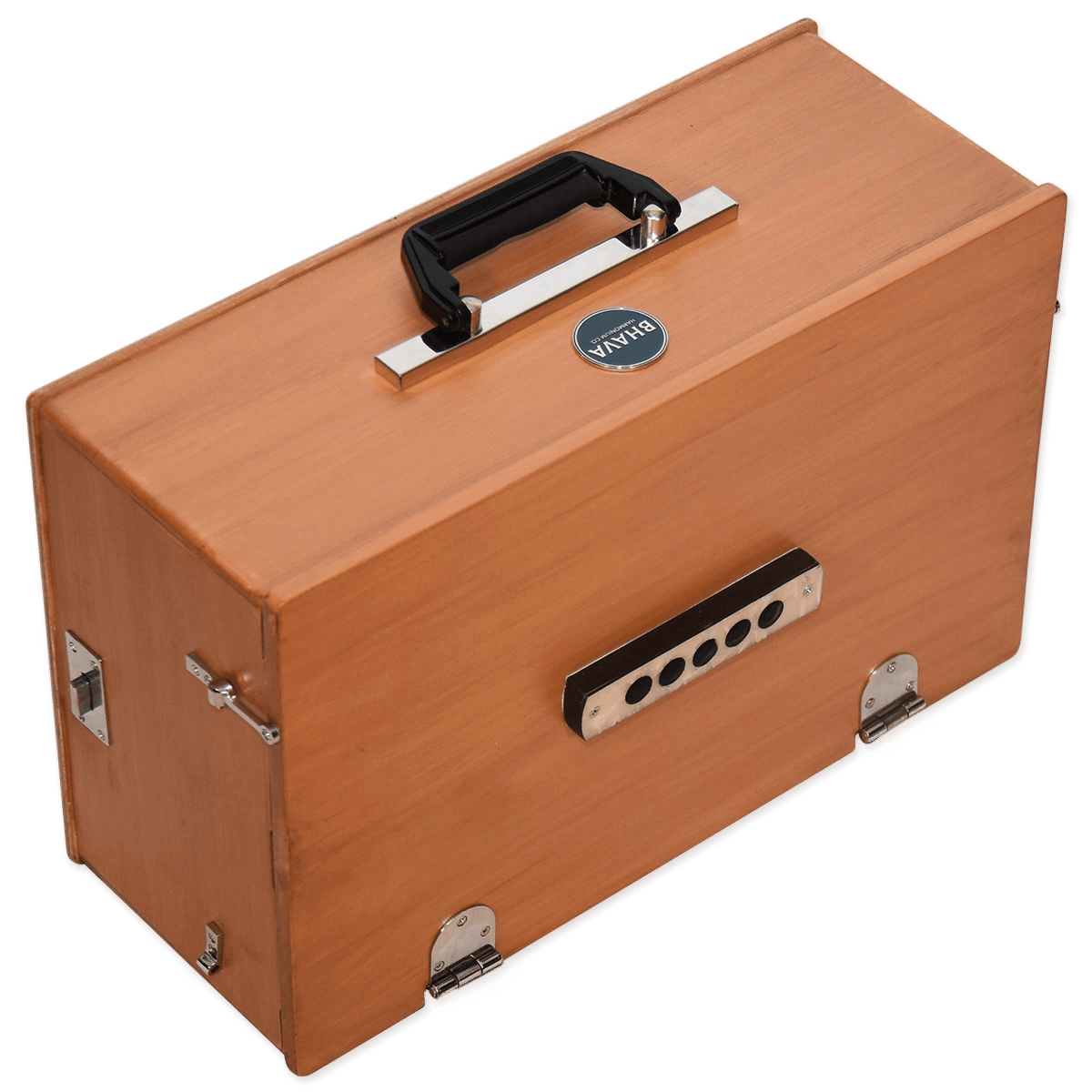 Packed with Bonuses!
more than $100 value
Free Shipping
within United States lower 48 (

Free Harmonium Orientation
video course with Daniel Tucker to get you started

Free Month of Bhakti Breakfast Club
hundreds of harmonium class videos to explore

Ample Support
email us any time with instrument or music questions
• • • • •
Bhava Mini: Details
Solid wood
~
Traditional Delhi-style design
~
Clear melanine finish
~
High quality components
~
2.5 octave keyboard
~
2 stops, 2 drones
~
Side folding bellows with long sustain
~
Two horizontal reed banks with high quality bass and mid reed sets
~
Sliding wooden volume control board (Jaali)
~
Collapsible: folds up into suitcase shape
~
Measures 19 x 7 x 12 inches when folded up
~
Weighs just 17 lbs
~
Set-up, refinement, and expert A440 tuning by Nic Dillon comes standard
~
Includes padded carrying case


Shipping:
Free shipping for all continental U.S. addresses! Your harmonium will be set-up and shipped within 2-3 business days. For Hawaii, Alaska or International shipping, please


Tuning:
Each Bhava harmonium is hand-tuned by instrument specialist Nic Dillon to ensure that all reed pairs are blending harmoniously at an accurate A440 tuning.

About Bhava Harmoniums
A note from Daniel Tucker, founder of Kirtan Central:
Bhava is Sanskrit for the mood of devotion. Through kirtan, this feeling of bhava expands, becoming the ecstatic mood of awakened union. For us kirtan lovers, a harmonium is like a sweet companion, always beckoning us home to our chant practice, and gently supporting our singing with its lush vibrations.

Nic Dillon, who created Bhava harmoniums specifically for kirtan musicians, is a kindred harmonium lover. Where I took the path of music teacher, he took the path of instrument specialist and curator, so it's super joyful for us to team up here to ensure that our community of chanters are getting the best harmoniums possible.

There are many brands of Delhi-style harmoniums. What sets Bhava apart is a premium build quality, premium reeds and finish quality, and thorough, expert set-up by Nic. The difference is significant. Nic is a humble, hard-working guy who wouldn't say it himself, but in my eyes he is the most dedicated harmonium specialist in America.

When I asked Nic about his harmonium devotion/obsession, he replied, "What interests me most is taking an OK instrument and making it great before passing it along for another musician to enjoy. With my Bhava line, I work diligently to ensure that no compromises are made on wood, reed and component quality, and on the heels of a good manufacturing process, I am intimately involved in the refinement of every single one of these harmoniums. This means I work every day tuning reeds, bending springs, and generally doing whatever is necessary to ensure that no single harmonium leaves my shop until I am personally satisfied with the quality. I'm blessed to get to pour the majority of my time into working on these instruments."

Nic spends many hours adjusting each harmonium he receives from India, putting each through a set-up process that corrects leaks, adjusts key springs, refines reed tuning and gapping, repairs blemishes, and a long list more. He tells me, "My goal with each instrument is to make it as good as possible, and in the end, if I am happy with my work, that instrument goes up for sale. If I'm not happy (which generally takes at least 4 hours to discover), and the instrument I am working on is just not going to make the cut, it is used for spare parts, which are eventually used for the benefit of another instrument - so not all is lost."

Well, his hard work and high standards pay off! These harmoniums look and sound great. They're what I play now, and I am very excited to connect more chanters with these fine instruments. May they serve you for many years to come!
• • • • •

"Love is the door. Chanting is the key." ~ Bhagavan Das